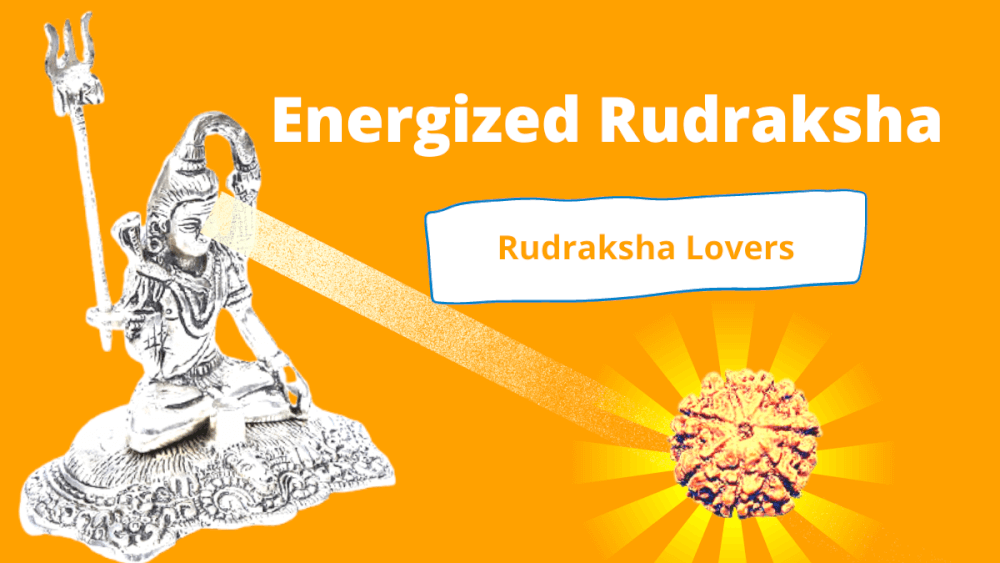 Learn: How to energize rudraksha
The deadly disease and the spiritual healing occur with the powers of an energized rudraksha. To energize a rudraksha follow up the following procedure –
Select an auspicious occasion or a day for energizing a rudraksha.
The auspicious occasion can be Shiva Ratri or Monday.
Wake up early in the morning and wash up.
Prepare for puja and clean the puja place with Ganga jal.
Now wash up the bead by placing it in a copper vessel.
Place the wash bead over the peepal leaves.
Face towards the East direction of your house.
Chant the beej mantra for the particular rudraksha.
The beej mantra is mostly chanted 108 times.
After the puja is over, seek the blessing of lord shiva.
Now wear the rudraksha with pure intentions.
Rules to Wear Energized Rudraksha
There are certain rules to wear a rudraksha which one has to follow before wearing an energized rudraksha. Some of the important points are mentioned for your reference.
Clean your intentions before wearing an energized rudraksha.
Foods that include onion and garlic should be avoided.
The consumption of alcohol should be avoided.
Avoid taking this powerful bead at funerals and childbirths.
Wear it on auspicious days like shiva ratri, Monday, or Thursday.
Don't place the rudraksha on the ground.
Don't remove it unnecessarily.
Benefits of Wearing Energized Rudraksha
The rudraksha which is energized with the beej mantra is very powerful. The benefits that an energized rudraksha provides includes –
Health – An energized rudraksha is very beneficial for the person suffering from diseases.
Wealth – It leads to the overall increment in wealth.
Sixth Sense – It opens up the sixth sense of an individual.
Chakra – It opens up the body chakra of the body.
Hurdles – It helps to overcome all the hurdles of life.
Business – The business flourishes with the power of the powers of an energized rudraksha.
Disputes – The court cases/family/relation disputes are resolved.
Facts about Energized Rudraksha
There are some interesting facts to know about the rudraksha. Some of them are listed below –
Women can wear rudraksha without any restrictions.
Rudraksha can detect poisonous foods/drinks.
Children can also wear rudraksha.
It protects the wearer from sudden death and wrong happenings.
The energy of rudraksha can be controlled with the jap of a certain mantra.
Getting a rudraksha to anyone is strictly prohibited.
The rudraksha should not be carried to sensitive places like funerals and births.
Difference Between Energized and Non-Energized Rudraksha
Energized Rudraksha –
Energized rudraksha is more powerful.
Energized rudraksha gives quick results.
Energized rudraksha brings more energy and power to do work.
Energized rudraksha can balance the energy within itself.
Energized rudraksha works according to the will of the wearer.
Non-Energized Rudraksha –
Non-energized rudraksha are not so Powerful.
Non-energized rudraksha takes more time to show results.
Non-energized rudraksha has less energy.
Non-energized rudraksha has unbalanced energy.
Non-energized rudraksha doesn't work according to the will of the wearer.